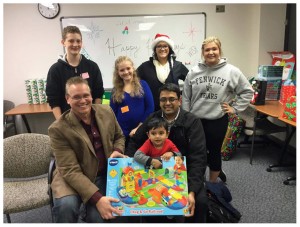 Thanks to the support of companies and individuals in the exhibit industry, Exhibit for Smiles delivered gifts and smiles to 96 patients at Children's Hospital University of Illinois on December 16!
Medical expenses and time away from work and home can really add up for families, and we were honored to also be able to present two families with checks for $1,000 each.
There were smiles, laughter, and tears as the gifts were delivered and memories made. Those who attended and volunteered were able to experience how these gifts create a bright spot for children battling life-threatening illness every day.
We want to extend a big thank you to everyone across the industry who participated in making the 2015 Holiday Drive a huge success. Your caring and generosity truly make a difference. Special thanks goes to Rick Pierson of Brumark, who led this year's effort.
Enjoy the photos here, and visit the Exhibit 4 Smiles Facebook page for more photos from our smile delivery day!